Your whole life is impacted by divorce but it does not need to be defined by divorce. Helping my clients to see and understand this is one of my primary goals as a Collaborative divorce attorney.
In this blog post, I am going to share with you one tool I use to help clients look at their situation, move through their divorce, and build a healthy new life. But first I want to explain how the Trinity Family Law logo as a tool came to be. Then I will tell you how to use it in your own life.
First you need to know that I never really set out to be a Collaborative family lawyer. In law school, I was grooming myself to be an environmental lawyer; I took a mediation class but not a single family law class. I have been a student of astrology since 1976 and of all things spiritual forever; these pursuits continued during law school.
After law school, I worked for a local law firm, left when my oldest son was 2-years old to focus on family, and several years later divorced. In 2002, after my divorce, I took Collaborative training and began my "new" law career working from a home office part time while raising two young sons. A couple of years later, with my client roster growing, I decided it was time to get an office outside of the home.
The start of a new chapter, I felt like it was finally for real! No more letterhead created in Word or scheduling client meetings around nap times and daycare; now it was time to get real letterhead and business cards! So, I contacted a friend's brother who did graphic design for a living and we started talking about my logo. My law practice was different from most firms and I was different from many attorneys.
My practice is holistic. I use my legal skills and my spiritual wisdom.
During my time as a stay-at-home mom/lawyer, I had developed a coaching practice as well; through that work, I wanted my clients to see their legal issues as a part of their larger life.
We talked about nature and patterns like the fleur de lis and Fibonacci. The graphic designer would come with ideas and I would give him feedback. One day, he sent me some images that he had pulled off the Internet – one was a door knocker and one was a crop circle. As soon as I saw the crop circle – I knew that was it.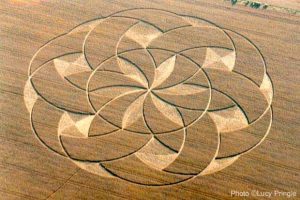 We played with color and eventually the logo became what you see today. Twelve years later, I still love it! So that is the story of how my firm logo came to be. Here is the key though – it is a tool. I use it. And now I am going to teach you how to use it if you are going through a divorce or some other transition in your life. First we identify six "areas" or arenas of life.
Start with three that we all have – Money, Health, and Family of Origin.
Now pick another three areas. These will be three that you put energy into or that you participate in, such as Children, Sports, Music, House, or Friends. For example, some people are "House" people: They spend a lot of time, energy and money just taking care of their house. One client had elderly parents so an entire aspect of her life was caring for them and managing their affairs. "Parents" was one of her arenas.
Next, for each area, choose three sub-topics.  Write your specific areas in a manner similar to the example below: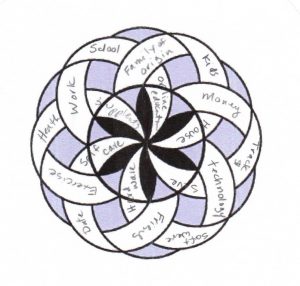 Now, for the interesting part … look at your life holistically. You exist at the point at the very center of the circle. Each of the "ribbons" is one area of life. They all come together at the center and they also weave between each other. So, while "Money" can be examined and explored in and of itself, the money in your life has an impact on your health – you pay for health insurance, the supplements you buy help you stay healthy.
My mandala has "Technology" listed because in many ways, I find myself struggling with and continually needing to deal with it. My computer, my phone, and the iPad I recently bought sneak into my thoughts. I get frustrated; sometimes I master and feel satisfied.
My "Work," another ribbon, is constantly interacting with technology and with my money. See what I mean? Everything is connected here.
The tool can help if we feel "off center." It is important to "visit" each of these areas but to not get stuck in them. My kids play a central role in my life. Most of my decisions flow from my commitment to their well-being, but I don't live on that ribbon. I get that I need to stay healthy to be a good mom. I need to make money to pay the bills so they can have a good home. One must move around the flower yet always return to the center.
When I work with clients, I say, "I want you to identify your most essential areas of life and record these on the ribbons" (or at the very least, in a worksheet I provide). Where is your identity located? If you stay stuck on one ribbon, we can ask questions to understand what is happening in the other areas. Every decision in a divorce will have impact on all of the ribbons. You don't want to make a decision that helps one but that destroys another.
For everyone going through a divorce, there once was a ribbon for their relationship with their soon-to-be-ex-spouse. It can be a huge part of that person's identity. When the divorce process starts, that ribbon gets ripped to shreds. Take care of yourself. Seek support from your friends. When the time is right, a new partner may show up and you can add that ribbon back in.
Remember that old phrase, a picture is with a 1000 words? Here is a template to use to make your own "ribbon flower". Find a quiet place and fill it out. Use it as a visual to remind yourself that you are at the center and need to start there. The ribbons around you need attention but should not be too taut. Are you stuck in any one place? What steps can you take today to help move you back to center?