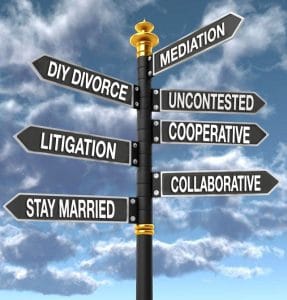 Once you have decided to divorce, you must choose the path to reach your goals whatever they may be.  How will you get divorced?
At Trinity Family Law, we specialize in helping people reach settlement outside of court by utilizing three general non-adversarial approaches – Collaborative Practice, Uncontested Divorce, and Cooperative  Process. We will help you identify your goals and assist you in choosing a divorce process that supports those goals.
To learn more about divorce options, please watch this Video Here
The Collaborative Practice Option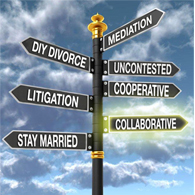 The Collaborative Law process works in situations where you and your spouse want to reach agreement and you see the benefit of professional assistance.  In this process, each spouse hires a lawyer to represent them and to settle the case.  In some cases, other professionals are included on the team – financial professionals and/or mental health professionals, as the case may require.  All professionals sign an agreement to work together outside of the courtroom to arrive at an overall agreement that satisfies both spouses.
When you choose Collaborative Divorce, you and all professionals agree that no one will commence litigation. If the process breaks down and either person seeks court intervention, the Collaborative lawyers must withdraw and new counsel must be retained to conduct the litigation.
With Collaborative Practice, everyone commits to work together to find solutions to your differences.  Our clients fashion their own agreements which allows them to build healthy new lives, prosper financially and co-parent children effectively.    

Is Collaborative Practice the Right Choice for You?
We encourage you to come in for a personalized educational presentation. In the meantime, ask yourself these questions:
Have you and your spouse tried to reconcile but those attempts have not brought the two of you back together?
Have one or both of you clearly decided that divorce is inevitable?
Do you want to be involved with your spouse in making decisions about your future instead of relying on attorneys or a judge to make decisions for you?
Can you and your spouse commit to a process that places a high value on communication, respect, support, and honesty even when discussions become difficult?
Do you want to keep negotiations private?
Is there a family business that you want to preserve?
Are you committed to reaching a financial settlement and co-parenting agreement that is respectful and considers both current and future needs of all parties involved?
Do you want your children to have a loving, healthy relationship with both parents?
How Does Collaborative Practice Work?
Step 1: You and your spouse retain attorneys trained in collaborative law.
Step 2: Based on your situation, other collaborative professionals may be added to the team to gather relevant information and address specific needs, such as financial, parenting, and emotional issues.
Step 3: You and your spouse meet individually with your attorneys and then come together through a series of "four-way meetings" to define goals, identify needs, work out differences, and reach solutions.
Step 4: With the assistance of your attorneys, you and your spouse reach agreements that are acceptable to you both.
Step 5: The attorneys prepare the legally binding documents and complete the process in court.
Give us a call or email to schedule an educational presentation. We will get you on a path to a better future.
The Uncontested Option
"I have heard of people using one lawyer. Is that a Collaborative Divorce?"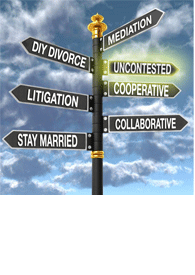 No. In order to have a Collaborative Divorce, both parties must have attorneys.
Our office calls the "one attorney divorce" an uncontested divorce. This can often work when both spouses have fully accepted the divorce and have reached agreements on their own about key issues prior to retaining an attorney. For example, they have all ready made decisions about what to do with the marital home and where the children will live. This type of representation is also appropriate when a couple has worked with a mediator and resolved all of their issues. In either case, Trinity Family Law serves as the legal drafter and guides you through the finalizing steps to make the divorce official.
In an uncontested divorce, our Firm represents one spouse and the other spouse acts as his/her own attorney. This is called "pro se."
To learn more about the different ways to get divorced, please watch this video. If you would like to schedule an educational presentation, please contact us.

The Cooperative Option
"What if my spouse doesn't want to use the Collaborative Process?"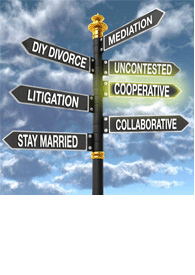 In a true Collaborative case, everyone signs an agreement at the beginning that details expectations of all parties, as well as attorney requirements. Occasionally, an attorney and/or a client does not agree to the withdrawal requirement.  Our experience shows that in general, this does not mean that they are rejecting the non-adversarial approach to their divorce.
Based on the specifics of the case and the reasons for not signing the agreement, Trinity Family Law will take this type of case and follow a "cooperative" approach in reaching a settlement. Discovery can be less formal than in a litigated, contested case.  The firm takes these cases when a variety of conditions are met, most important being the clients' commitment to settle. However, if contested motions are filed, the firm withdraws and will provide referrals to another attorney based on the circumstances.
Other Options
In general, Trinity Family Law helps people who want to reach their own settlement out of court. If you feel you need protection or revenge, we can give referrals. If you want a reasonable and efficient settlement, we can help.